This months review from Marvel which i picked up at my local comic store contained some exiting things for us Star Wars comic fans.....


A 6-PART CROSSOVER EVENT!
STAR WARS-VADER DOWN
Since Marvels's Star Wars line launched in January to much fanfare, the main series Star Wars and its sister series Darth Vader have told both sides of the tale of the Rebel Alliance and the Galactic Empire between the original STAR WARS and EMPIRE STRIKES BACK. Now, the two series come together to tell one epic tale!
This November, Darth Vader faces his biggest challenge yet: going solo against the entire Rebel fleet in Vader Down, a six-issue crossover event between the ongoing STAR WARS and DARTH VADER series.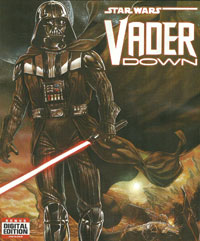 STAR WARS - VADER DOWN #1
Part 1 (of 6)
Scheduled to be published on 11 Nov 2015.
When Darth Vader accidentally finds himself facing off against the Rebel Fleet on his own, the rebels will learn the true strength of the Dark Side of the Force! Once Vadar crashes on a nearby planet, the Rebellion is willing to risk everything for this once in a lifetime chance to take out one of their biggest enemies! Luke! Vader! Leia! Aphra! Han! Chewie! And all maner of Droid, good and evil.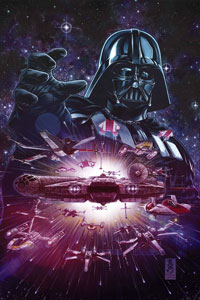 DARTH VADER #13
Part 2 (of 6) of Vader Down!
Scheduled to be published on 18 Nov 2015.
The first crossover of Star Wars's new Marvel age continues here!
Vader vs. All the Rebels...it's not a fair fight!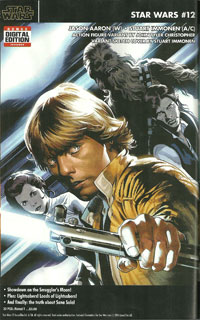 STAR WARS #12
Scheduled to be published on 11 Nov 2015
Star Wars 12 is the twelfth issue of the ongoing Marvel comic book series Star Wars. The issue, written by Jason Aaron and with art by Stuart Immonen will be the final issue in the Showdown on the Smugglers' Moon arc of the series.

-Showdown on the Smuggler's Moon!
-Plus: Lightsabers! Loads of Lightsabers!
-And finally: the truth about Sana Solo!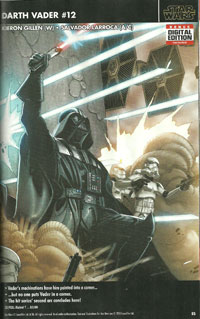 DARTH VADER #12
Scheduled to be published on 4th November 2015
Written by Kieron Gillen with art by Salvador Larroca is  is the final issue in the Shadow and Secrets arc in the series.

-Vader's machinations have him painted into a corner...
-…but no one puts Vader in a corner.
-The hit series' second arc concludes here!