The green-furred rabbit first appeared in the original Marvel Star Wars comic #8 in 1978. Marvel published the first "Star Wars" comics beginning in 1977 with the official movie adaptation by Roy Thomas and Howard Chaykin, followed by some off-kilter stories that introduced several eccentric characters to the "Star Wars" universe, including the oft-maligned Jaxxon.
George Lucas particularly disliked there being a six-foot alien who resembled a green Bugs Bunny in space gear. However, now Jaxxon is a cult for many Star Wars fan.
Jaxxon was a quick-witted Lepi smuggler from Coachelle Prime during the dark times of the reign of the galactic Empire.
Below: Star Wars #8 - Jaxxon's first appearance.
Jaxxon will appear on a variant cover for Star Wars: Vader Down #1, with Chip Zdarsky providing the art.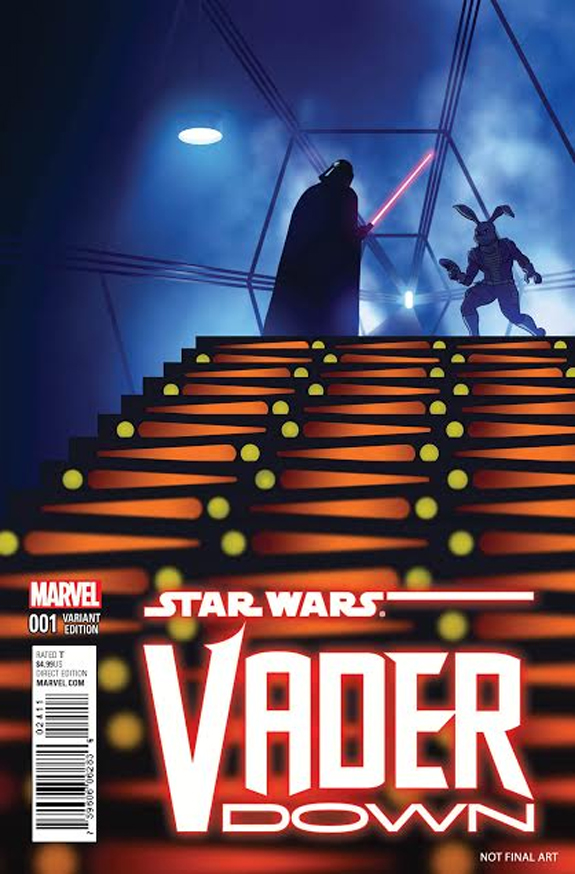 This would be Jaxxon's second appearance in the in-continuity Marvel Star Wars comic book line, albiet it's been in variant covers like John Tyler Christopher's Star Wars #1 Variant: